LEN (in all caps)*
*(or, you know, one of some billion other names)
discord . itch.io . toyhou.se . tumblr . twitter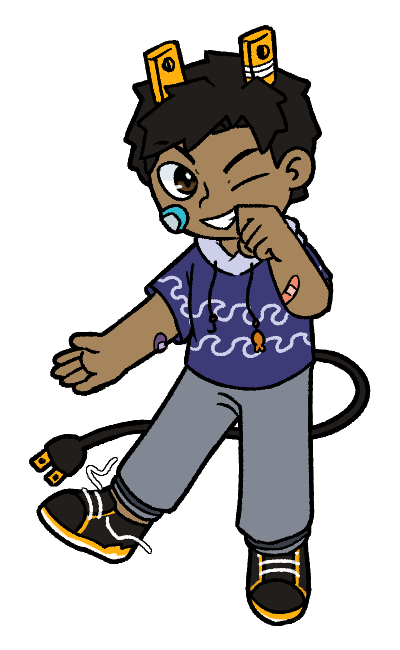 23 year old asian american lesbian demon thing riding the pipe dream of developing a meaningful video game someday. No preference in pronouns, but most people use she/her for me. I have a wonderful girlfriend who does not use social media so I can't link anything... but I promise she exists lol.
I REALLY love collecting blind box figurines and video game controllers. You can view my controller collection here, and my figurines collection here. My favorite video game genre is "modern JRPG that's clearly trying to appeal to the classic/golden-age fans," so a lot of my top games (as well as the inspiration for my primary worldbuilding project) will reflect this weird niche.
I have an enormous passion for worldbuilding and project development, and I love seeing what others are up to. I have a Discord server centered around it, you can check out more information about that here.
My name here and on some other platforms is a portmanteau of the Japanese words 落雷 and 雷光, both being different ways of saying lightning / lightningstrike.
My favorite things!
Video Games
👑 Bravely Default: Flying Fairy
Monster Hunter Rise
Splatoon 3
Taiko no Tatsujin
👑 The Legend of Zelda: Tears of the Kingdom
Music
¿?shimon
Ado
Eve
FAKE TYPE
Jin/Kagerou Project
👑 Tatsuya Kitani
👑 TOPHAMHAT-KYO
👑 Rib
syudou
Food
👑 Bánh xèo
👑 Bò nhúng giấm
Mogu mogu
Pandan flavor (especially tea)
Phở tái
👑 Sushi
Other
👑 "CBS hit reality TV show Survivor"
Entomology
👑 Game development
Mycology
Playing piano
Skateboarding
👑 Worldbuilding